Sinno Center for Plastic Surgery: Dr. Fady A. Sinno
5300 Dorsey Hall Drive #102
Ellicott City, MD 21042
Phone: (410) 884-4200
Monday–Friday: 9 a.m.–5 p.m.

Sinno Center for Plastic Surgery: Dr. Fady A. Sinno
826 Washington Road #204A
Westminster, MD 21157
Phone: (410) 751-2348
Monday–Friday: 9 a.m.–5 p.m.

Breast Implant Options
Women considering breast augmentation with implants visit us from Baltimore, Columbia, and other Maryland communities. They typically have lots of questions about the wide range of options available to them. At the Sinno Center for Plastic Surgery, we want to streamline the decision-making process and empower you to make the best choice for yourself. You can help board-certified plastic surgeon Dr. Fady Sinno give you the personalized results you want by learning about your options for breast implants at our locations in Ellicott City and Westminster.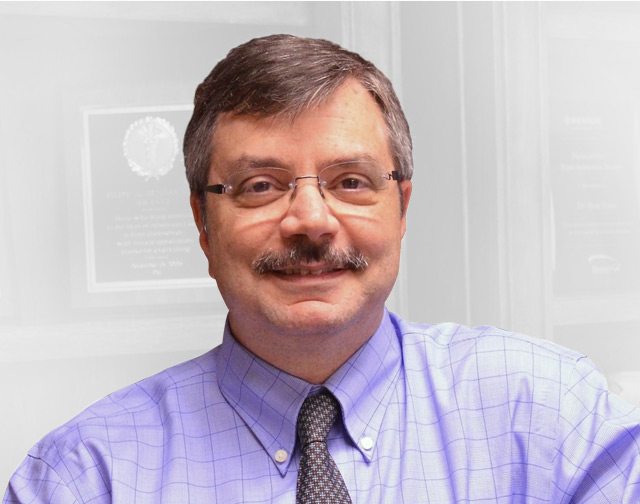 Meet Dr. Fady Sinno
Board-Certified Plastic Surgeon
Dr. Fady Sinno provides individual attention and personal care to each of his patients. His warm, personal approach and exceptional results make him a top choice for Baltimore, MD, area men and women who want to look and feel their best.
Meet Dr. Sinno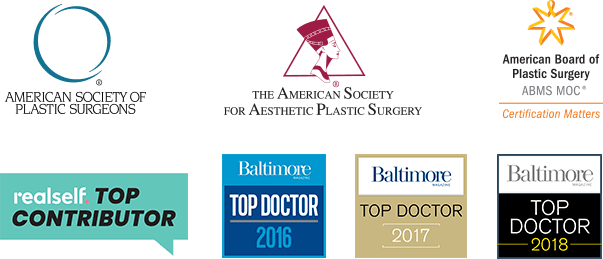 Which is better, saline or silicone breast implants?
In the United States, both saline-filled and silicone-filled implants are approved by the FDA. Each offers breast augmentation patients its own distinct advantages.
Saline implants are filled with a sterile saltwater solution. Many people are attracted to saline implants because they often require smaller incisions—the implant shells are inserted empty and filled once in place. They're also generally more affordable than silicone implants. In the unlikely event of a rupture or tear, the saline filling is harmlessly absorbed by the body.
Silicone implants come in a variety of viscosities. Some, like the highly cohesive gel gummy bear implants, are enduringly popular among our Baltimore-area patients thanks to their very natural look and feel. In general, silicone implants will hold their shape if they rupture, so damage may not be immediately noticeable.
How do I choose the right size breast implant?
Because breast enlargement is the primary goal of surgery, the matter of size is a big decision. While you may have a particular cup size in mind, this isn't a particularly reliable way to plan for surgery. Cup sizes aren't regulated and can vary quite a bit between lingerie brands. During your consultation, Dr. Sinno will discuss your goals regarding the desired size and appearance and will take accurate measurements to plan your surgery. Sterile sizers are routinely used to confirm the optimal implant selection during surgery.
Are round or teardrop breast implants better?
Both saline and silicone implants come in the following shapes:
Round implants create circumferential fullness and voluminous cleavage.
Shaped, also called teardrop, implants are tapered, mimicking the slope of natural breasts.
Shaped implants can create a subtler look, but excellent results can be achieved with both shaped and round implants.
Testimonials
"I am incredibly happy with the results of my mammoplasty! The results have far exceeded my expectations. Dr. Sinno was very knowledgeable, professional, and transparent with me about the procedure. Dr. Sinno and his staff are incredible and are always a pleasure to work with! They provide excellent personalized care and I was very impressed with the surgery center."

– Patient Review on Vitals

"Dr. Sinno, is caring, intuitive, and extremely skilled. He is more interested in producing an artistic, natural, and beautiful result than in simply making money. I consider him to be one of the most ethical and professional plastic surgeons in the region. I highly, highly recommend."

– TriciaLeanne

"I have been going to Dr Sinno for more than 15 yrs, I had 3 surgeries, He has the best bedside manner & his professionalism is beyond anyone I met! I Love my results. He is truly an artist. I can't say enough about him, I HIGHLY recommend him."

– Rbsbeauty
View More
Which breast implant profile is best for me?
Implant profile isn't necessarily on the list of decisions you'll need to make. Instead, the best profile for you is determined largely by your natural body type. Implants are available in high, medium, and low profiles, with various subtleties by manufacturer. Although "profile" refers to the projection of an implant, it also refers to how large it is at the base. Imagine a breast implant as a vaguely conical structure. The more projection it has, the narrower the base. Thus, women with naturally small, narrow frames are often well suited to high-profile implant types, while women with wider frames look best with low-profile implants.
What's the difference between smooth and textured breast implants?
Implant exteriors are available in both smooth and textured forms. Shaped implants have a textured exterior to prevent the implant from rotating once it's in the breast pocket. Round implants are usually smooth, but can also be textured.
Next Steps
Let's work together to help you design your most beautiful body. Request your consultation online, or call the Sinno Center for Plastic Surgery at (410) 884-4200 to book your appointment with Dr. Sinno.
Back to Top