Sinno Center for Plastic Surgery: Dr. Fady A. Sinno
5300 Dorsey Hall Drive #102
Ellicott City, MD 21042
Phone: (410) 884-4200
Monday–Friday: 9 a.m.–5 p.m.

Sinno Center for Plastic Surgery: Dr. Fady A. Sinno
826 Washington Road #204A
Westminster, MD 21157
Phone: (410) 751-2348
Monday–Friday: 9 a.m.–5 p.m.

Dr. Sinno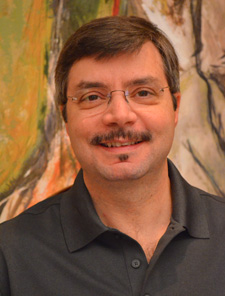 Flash, gimmicks and false promises aren't part of Dr. Fady Sinno's practice. Among plastic surgeons in the Baltimore area, Dr. Sinno, with offices in both Westminster and Ellicott City, MD, has earned the respect of his peers and the trust of his patients. A well-established, board-certified plastic surgeon, he is known for his integrity, professionalism, and commitment to patient safety.
Dr. Sinno is also admired for his surgical skill and his warm, caring bedside manner. His background includes 9 years of training in general, plastic and reconstructive surgery, and he is certified by The American Board of Plastic Surgery.
A Different Kind of Surgeon
When you meet Dr. Sinno, you will understand what makes him stand out from other plastic surgeons in Columbia, MD, and surrounding areas. Behind his impressive list of accomplishments and qualifications is a warm, caring individual with a passion to help people look, feel, and live better.

Commitment to Quality
"I never try to sell a procedure unless the patient wants it," he says. "If I think they can benefit, I'll develop a safe, reasonable, successful plan to meet their expectations."
While some plastic surgeons are driven by quantity, Dr. Sinno is driven by quality. He has intentionally designed his boutique-style plastic surgery practice in a way that allows him to spend more time with his patients during their consultations and create more detailed surgical plans. Dr. Sinno's ultimate goal is to provide you with the best possible care—not to perform the greatest number of procedures.
Personalized Approach
"I love plastic surgery because it's very creative," he says. "For every problem, there are several solutions."
Creativity is a driving force that led Dr. Sinno to pursue plastic surgery. Although he initially aspired to be a heart surgeon, Dr. Sinno soon found the procedures involved to be overly repetitious. Plastic surgery, on the other hand, provides creative freedom while satisfying his desire to help people improve their lives. For Dr. Sinno, an assembly-line approach to surgery has never been an option. He takes joy in being able to develop unique solutions for each patient.
Safety Comes First
"I have a personal commitment to do the best I can do under the safest possible conditions," he says. "I don't promote anything that does not have a reasonable, proven track record."
Cutting corners is not an option for Dr. Sinno, either. He offers only the most trusted and effective methods, and each procedure is performed using the highest standards of safety. This conservative approach helps him achieve consistently satisfying, long-lasting results for his patients.
Specialized Training and Qualifications
Finding a plastic surgeon with outstanding qualifications can help you feel confident that your procedure will be performed with precision and that you will attain the improvements you desire. Dr. Sinno completed 9 years of post-graduate surgical training at world-renowned centers including the Johns Hopkins Hospital and the University of Texas. He has built upon his foundation of extensive aesthetic training with over 2 decades of practical experience. Dr. Sinno has far surpassed the standard requirements to become a plastic surgeon. His notable accomplishments include:
Board Certifications
The American Board of Plastic Surgery, since 1997
American Board of Medical Specialties
Societies, Memberships, and Affiliations
American Society of Plastic Surgeons
American Society for Aesthetic Plastic Surgery
Maryland Society of Plastic Surgeons
Johns Hopkins Medical and Surgical Society
John Staige Davis Society of Plastic Surgeons of Maryland (2009 President)
Alpha Omega Alpha Honor Medical Society (1985)
Dr. Sinno specializes in the latest advances in aesthetic and reconstructive surgery, including breast enhancement, facial rejuvenation, and body contouring. His surgical innovations include a minimal incision breast lift technique that is performed through the areola. He possesses a clear understanding of the unique needs of individual patient groups, such as those that have undergone bariatric surgery.
Highly Regarded by Patients and Peers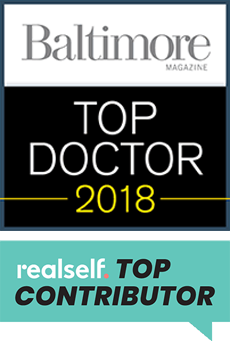 In recognition of his continued contributions to the region and the medical field, as well as his record of excellent patient results, Dr. Sinno was once again elected by his peers to the annual Baltimore Magazine list of Top Doctors in 2017 and 2018. It's an accolade reserved for the very best medical professionals in the Baltimore area, and it serves as a resource for patients looking for high-quality physicians. The Top Doctor designation was included in both the Cosmetic Surgery and the General and Reconstructive Plastic Surgery categories.
In 2018 Dr. Sinno achieved the status of RealSelf Top Contributor for his quality commitment to the RealSelf.com online forum. Dr. Sinno earned this recognition because he receives consistently high ratings from actual patients and ongoing positive reviews about how he answers the community's questions. Top Contributor recognition is awarded to less than 10% of participating doctors.
Dr. Sinno has been featured as an expert guest on TV and radio, including NBC, CBS, and WBAL.
Comforting Environment
At the Sinno Center for Plastic Surgery, we strive to provide each patient with outstanding plastic surgery services in a comfortable, unhurried, and boutique setting. Dr. Sinno often spends over an hour with his patients during their initial consultation to build a rapport, establish open communication, and help set realistic expectations. He takes the time to thoroughly educate his patients about the available options and answer all of their questions to help them make the best possible decision for their unique needs and goals. For many, this dedicated and individualized attention sets him apart from other plastic surgeons. A complimentary second pre-operative consultation is scheduled prior to the surgery to review the surgical plan and goals, answer any questions, and go over the post-operative instructions in detail.
Testimonials
"I am incredibly happy with the results of my mammoplasty! The results have far exceeded my expectations. Dr. Sinno was very knowledgeable, professional, and transparent with me about the procedure. Dr. Sinno and his staff are incredible and are always a pleasure to work with! They provide excellent personalized care and I was very impressed with the surgery center."

– Patient Review on Vitals

"Dr. Sinno, is caring, intuitive, and extremely skilled. He is more interested in producing an artistic, natural, and beautiful result than in simply making money. I consider him to be one of the most ethical and professional plastic surgeons in the region. I highly, highly recommend."

– TriciaLeanne

"I have been going to Dr Sinno for more than 15 yrs, I had 3 surgeries, He has the best bedside manner & his professionalism is beyond anyone I met! I Love my results. He is truly an artist. I can't say enough about him, I HIGHLY recommend him."

– Rbsbeauty
View More
Dedicated Staff
Dr. Sinno prides himself on having a dedicated, experienced support staff that has been by his side for many years. Together they make up a unique team that is experienced, highly educated, and eager to support you along the way, from your initial decision through your recovery and beyond.
Next Steps
To learn more about the different qualifications and credentials you should look for when trying to find a physician for your cosmetic procedure, please visit our patient resources page.
Would you like to learn more about Dr. Sinno and his practice? Request your consultation online or our office at (410) 884-4200.
Back to Top