Sinno Center for Plastic Surgery: Dr. Fady A. Sinno
5300 Dorsey Hall Drive #102
Ellicott City, MD 21042
Phone: (410) 884-4200
Monday–Friday: 9 a.m.–5 p.m.

Sinno Center for Plastic Surgery: Dr. Fady A. Sinno
826 Washington Road #204A
Westminster, MD 21157
Phone: (410) 751-2348
Monday–Friday: 9 a.m.–5 p.m.

Tummy Tuck
At Sinno Center for Plastic Surgery, we understand that sometimes no matter what you try, your stomach does not look the way you want it to. Board-certified plastic surgeon Dr. Fady Sinno performs abdominoplasty, often called a tummy tuck, to help people from Baltimore and Columbia, MD, attain or regain a flat, attractive abdominal area.
Who is the best candidate for a tummy tuck?
Board-certified plastic surgeon Dr. Fady Sinno performs tummy tuck surgery to reduce or flatten a protruding abdomen when weight loss or exercise is not effective. People who have had multiple pregnancies, significant weight loss, or other conditions that have stretched out abdominal muscles and skin can benefit from a tummy tuck. The procedure is most effective for healthy individuals who have stabilized at their desired weight.
How do I know if I need a mini or full tummy tuck?
Dr. Sinno performs the following variations of the tummy tuck procedure, which depend on the extent of correction needed:
Full tummy tuck surgery renews the look of the abdomen from under the ribcage down to the pubic area. This version requires an incision that runs from hip to hip and another that circles the belly button. Dr. Sinno removes loose, stretched skin and rejoins separated abdominal muscles if necessary. The abdominal skin is pulled down and the belly button is repositioned.
Mini tummy tuck surgery provides improvement from the belly button down to the pubic area. Dr. Sinno removes loose skin and tightens abdominal muscles in this limited area. This variation requires a shorter incision than the standard tummy tuck.
What is another surgery that would complement a tummy tuck?
Dr. Sinno often performs other plastic surgery procedures to enhance the results of a tummy tuck. Popular options for our Baltimore and Columbia-area patients include:
A tummy tuck is performed as part of most mommy makeover procedures to help women renew their bodies after pregnancy and breastfeeding. During your consultation, Dr. Sinno will take the time to answer your questions and create a customized plan that will work best for you and your body.
How is the tummy tuck procedure done?
Dr. Sinno performs tummy tuck surgery either as an outpatient procedure or with an overnight stay in a hospital. You will receive general anesthesia during the surgery so you will sleep through the procedure and feel no discomfort. He first makes an incision across the abdomen above the pubic bone. He then removes excess skin, fat, and tissue and tightens abdominal muscles if they are stretched or separated (a condition called diastasis recti). Dr. Sinno often also performs liposuction of the abdomen, hips, and flanks at the same time, if necessary. He closes the incision with absorbable stitches.
Testimonials
"I am incredibly happy with the results of my mammoplasty! The results have far exceeded my expectations. Dr. Sinno was very knowledgeable, professional, and transparent with me about the procedure. Dr. Sinno and his staff are incredible and are always a pleasure to work with! They provide excellent personalized care and I was very impressed with the surgery center."

– Patient Review on Vitals

"Dr. Sinno, is caring, intuitive, and extremely skilled. He is more interested in producing an artistic, natural, and beautiful result than in simply making money. I consider him to be one of the most ethical and professional plastic surgeons in the region. I highly, highly recommend."

– TriciaLeanne

"I have been going to Dr Sinno for more than 15 yrs, I had 3 surgeries, He has the best bedside manner & his professionalism is beyond anyone I met! I Love my results. He is truly an artist. I can't say enough about him, I HIGHLY recommend him."

– Rbsbeauty
View More
How long is recovery from tummy tuck surgery?
Most patients can return to work and resume light activity within 10 to 15 days. You will need to avoid strenuous exercise or sports for at least 6 weeks.
What can I expect after a tummy tuck?
After your tummy tuck surgery with Dr. Sinno, your abdomen will be wrapped in an elastic compression garment that you will need to wear for the first several weeks. The gentle pressure will give you stability and minimize initial swelling. Most patients also return home with 1 or 2 drains to empty fluid from the surgical area. Dr. Sinno will remove them several days after surgery.
Most patients are sore to some degree for 10 to 20 days after their tummy tuck. Dr. Sinno uses several tools for pain management, including long-acting local anesthetic administered at the time of surgery and the placement of "pain-pump" devices that continue to deliver the local anesthetic for several days. Any initial numbness in the treated area can persist for several months.
You will not be able to stand completely upright for at least the first week, and possibly longer. However, it's important that you start moving and walking within 1 to 2 days after surgery to reduce the possibility of blood clots.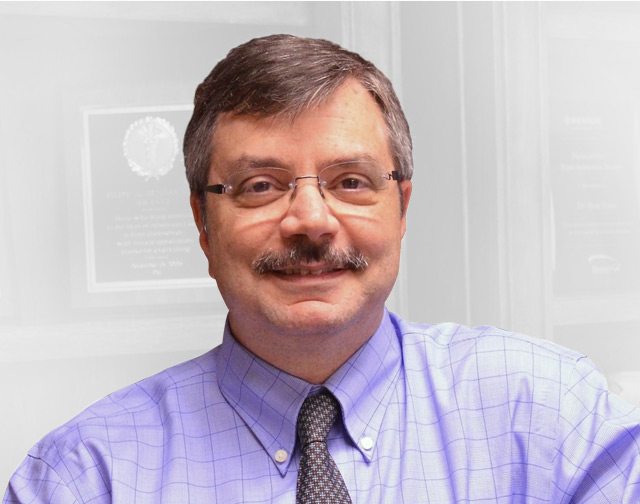 Meet Dr. Fady Sinno
Board-Certified Plastic Surgeon
Dr. Fady Sinno provides individual attention and personal care to each of his patients. His warm, personal approach and exceptional results make him a top choice for Baltimore, MD, area men and women who want to look and feel their best.
Meet Dr. Sinno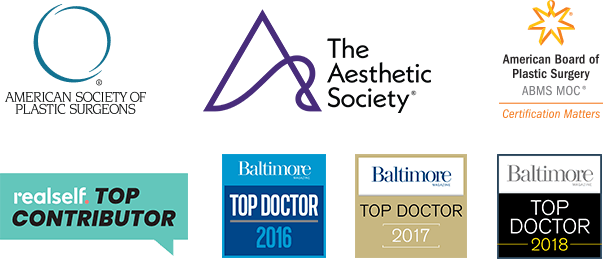 More Tummy Tuck FAQ
---
Do I need a tummy tuck or just liposuction?
Tummy tuck surgery is for women and men who have a protruding midsection due to muscle laxity, excess skin and fat. Liposuction is excellent for removing isolated areas of fat in individuals who have good muscle and skin tone. The best option after pregnancy or massive weight loss is a tummy tuck.
Do you get scars from a tummy tuck?
Although a scar cannot be avoided with any surgery, including a tummy tuck, Dr. Sinno strives to minimize the incision and place it where the scar can be concealed by a swimsuit or underwear.
Can a tummy tuck help me lose weight?
No, a tummy tuck is not a weight-loss surgery. However, it can be a highly beneficial procedure for those who have already lost weight by dieting, exercising and/or having bariatric surgery. If losing a large amount of weight has led to excess skin and fat in your midsection, a tummy tuck may be the procedure for you.
Why can't I flatten my abdominal muscles with exercise?
If your abdominal muscles have become weakened or separated, exercise cannot close the gap (called a diastasis recti). Dr. Sinno can repair the separation with internal sutures. This closes the gap and brings the muscles back to their natural position. After you recover, you can exercise to rebuild core strength for further abdominal flattening. Suturing your abdominal muscles can also take several inches off your waistline.
Can I have a tummy tuck between pregnancies?
A pregnancy after tummy tuck surgery could reverse all of the corrections made during the procedure. To maximize and prolong your results, wait to have a tummy tuck until after you have had your last child.
Are tummy tuck results permanent?
A tummy tuck will give you a much flatter, smoother abdomen overall. The results are permanent unless the abdomen is stretched again by massive weight gain or another pregnancy.
How painful is abdominoplasty surgery?
Most of the pain after abdominoplasty surgery originates from repairing and tightening the abdominal wall muscles. Dr. Sinno administers long-acting local anesthetics into the abdominal wall muscles at the time of surgery, so patients are very comfortable when they wake up from general anesthesia. In addition, Dr. Sinno strongly recommends the installation of the ON-Q® pain pump device at the time of surgery so pain is effectively and automatically controlled for 4 ½ to 5 days using local anesthetics only. This device provides safe pain control directly to the surgical site while minimizing the use of narcotic pain killers and avoiding their common side effects.
How can I prepare for my tummy tuck?
Avoid smoking for several weeks prior to your procedure. You should also avoid aspirin and any other blood-thinning medication before your tummy tuck. Make plans to have someone help you around the house after surgery, especially if you have small children. Dr. Sinno will provide detailed post-op instructions at your consultation.
Next Steps
Are you ready to find out more about tummy tuck surgery near Baltimore or Columbia, MD? Request your consultation online with Dr. Fady Sinno or call us at  (410) 884-4200 (Ellicott City) or  (410) 751-2348 (Westminster). His offices are conveniently located near Annapolis and Frederick.
A Reputation Built on Results
Dr. Sinno is extraordinary, especially if you want to maintain your look with small tweaks, avoiding...
I Am Grateful I Was Able to Receive Outstanding Care at Dr. Sinno's Office I consider myself very fortunate....
Dr. Sinno is an amazing doctor. He's had treated me, for various things, over the last 18 years. I've...
I have been going to Dr. Sinno for 3 years now and always leave happy no matter what I get done!!
Back to Top