Sinno Center for Plastic Surgery: Dr. Fady A. Sinno
5300 Dorsey Hall Drive #102
Ellicott City, MD 21042
Phone: (410) 884-4200
Monday–Friday: 9 a.m.–5 p.m.

Sinno Center for Plastic Surgery: Dr. Fady A. Sinno
826 Washington Road #204A
Westminster, MD 21157
Phone: (410) 751-2348
Monday–Friday: 9 a.m.–5 p.m.

Breast Reconstruction
At Sinno Center for Plastic Surgery, we understand what you are going through when you visit us for breast reconstruction in the Baltimore or Columbia, MD, area. From the moment you start your initial consultation with board-certified plastic surgeon Dr. Fady Sinno until the day you have healed completely, our staff will work with you to provide you with superior care to support both your physical and your emotional needs.
About Breast Reconstruction
Breast reconstruction is a surgical procedure that replaces breast tissue. Women seeking breast reconstruction may have lost a breast due to cancer or suffer from a breast deformity from injury or congenital defects. Breast reconstruction is normally covered by medical insurance. Check with your provider for details.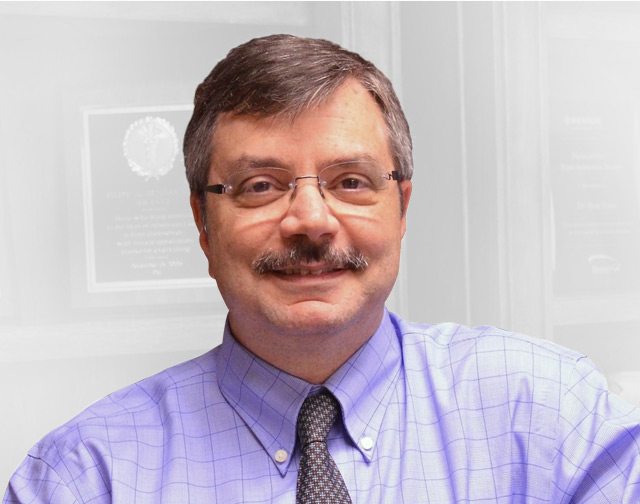 Meet Dr. Fady Sinno
Board-Certified Plastic Surgeon
Dr. Fady Sinno provides individual attention and personal care to each of his patients. His warm, personal approach and exceptional results make him a top choice for Baltimore, MD, area men and women who want to look and feel their best.
Meet Dr. Sinno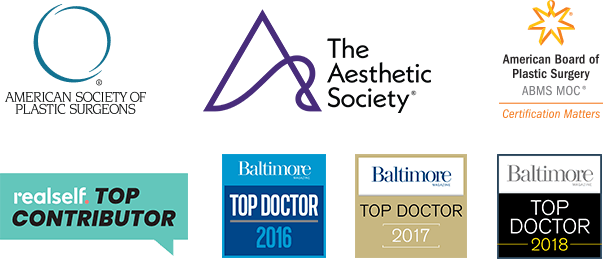 At Sinno Center for Plastic Surgery, we can create a new breast for you that is very close in form and appearance to your natural breast. Baltimore breast reconstruction procedures usually involve several steps to achieve the final result, and may include surgery on the opposite breast (normal side) to improve symmetry.
Often, you can have your breast reconstructed immediately following breast removal (mastectomy). That way, a major step in the breast reconstruction process is already completed before you awake from surgery.
Nipple reconstruction is usually done at a later time after the breast reconstruction (about 3 to 4 months later). It is most commonly done under local anesthesia using your own chest skin to create the nipple and using a tattoo machine to color the entire nipple-areola complex.
Most women who have had a breast removed are good candidates for breast reconstruction. The best candidates for breast reconstruction are women whose cancer seems to have been eliminated with removal of the breast. The timing of the reconstruction surgery depends on your own readiness to proceed, and the general condition of your overall health.
What to Expect
Several approaches can be used to reconstruct your breast. You will go over these in detail with our staff.
Skin Expansion
This is one of the most common and easiest approaches to breast reconstruction. After your mastectomy, the Dr. Sinno will insert an expanding device beneath your chest muscle, under the skin. Over the next few months, saline (salt water solution) will be injected into it, causing the skin to gradually expand. In a follow up surgery, the expander is removed and a permanent implant is inserted. Your nipple and areola are reconstructed in a follow up procedure.
Flap Reconstruction
This approach involves creating a pocket on your chest for the breast implant. Skin for the pocket is taken from another part of your body, such as your stomach, back, or buttocks. An implant is inserted into the flap, or pocket, to create a new breast.
Another possibility involves using your own tissue (skin, muscle, and fat) to actually create the breast mound itself, instead of inserting an implant. When your breast is reconstructed using your own tissue, concerns associated with an implant are eliminated but the surgery is more extensive and invasive. The most common flaps used are the TRAM (abdominal tissue) and latissimus dorsi (back tissue).
Breast Implants
An implant is a device that can be used to create a new breast. Breast implants are made of a silicone shell, filled with silicone gel or saline (salt water solution). Breast implants are safe and are frequently used for breast augmentation in Baltimore. You will be given information at that time about Food and Drug Administration (FDA) regulations pertaining to implant use and the advantages or limitations of each type of implant.
Testimonials
"I am incredibly happy with the results of my mammoplasty! The results have far exceeded my expectations. Dr. Sinno was very knowledgeable, professional, and transparent with me about the procedure. Dr. Sinno and his staff are incredible and are always a pleasure to work with! They provide excellent personalized care and I was very impressed with the surgery center."

– Patient Review on Vitals

"Dr. Sinno, is caring, intuitive, and extremely skilled. He is more interested in producing an artistic, natural, and beautiful result than in simply making money. I consider him to be one of the most ethical and professional plastic surgeons in the region. I highly, highly recommend."

– TriciaLeanne

"I have been going to Dr Sinno for more than 15 yrs, I had 3 surgeries, He has the best bedside manner & his professionalism is beyond anyone I met! I Love my results. He is truly an artist. I can't say enough about him, I HIGHLY recommend him."

– Rbsbeauty
View More
Breast Reconstruction Recovery
Following your surgery:
Your breast and the area around it will probably be sore for 1 to 2 weeks. Use prescribed pain medication to help reduce your discomfort.
You may feel tired or "washed out" for a week or 2. Resume your normal activities slowly, doing what you can.
Avoid direct pressure on the reconstructed breast.
Dressings put on your chest after surgery will be removed at your first post-op visit with Dr. Sinno.
The stitches are usually the absorbable type.
If you are using a breast expander, you will feel a gradual increase in pressure or tension. This will disappear when the expander is removed and the implant inserted.
Your Recovery Timeline
If you have a skin flap reconstruction—with time out from surgery after a mastectomy—your recovery time will be 6 weeks or more. Recovery time is significantly less if you have breast reconstruction using tissue expanders or implants.
In any case, follow these guidelines after your breast reconstruction:
No overhead lifting for 3 to 6 weeks.
No aerobic exercise or sexual activity for at least 3 weeks.
Return to work when you are comfortable being at home all day.
Resume light exercise in 7 to 10 days, only if you have no discomfort in the area treated. Otherwise, wait.
Avoid sun exposure on the area treated until fully recovered.
Results
Many breast reconstruction patients say they feel a sense of renewal once they have fully healed. Sometimes the new breast does not have the same shape as the breast that was removed through mastectomy, nor does it match the remaining breast. These differences are usually so subtle that they will not be obvious to anyone. In the long term, breast asymmetries may become more significant, and revision surgery may become indicated.
Breast reconstruction attempts to give you a normal-looking breast. You will likely look better and feel better about yourself. As with your other, natural breast, gravity will eventually cause some sagging or drooping of your reconstructed breast.
Next Steps
Are you ready to find out more about breast reconstruction surgery in the Baltimore or Columbia, MD, area? Request your consultation online with Dr. Fady Sinno or call us at  (410) 884-4200 (Ellicott City) or  (410) 751-2348 (Westminster). His offices are conveniently located near Annapolis and Frederick.
A Reputation Built on Results
I found Dr. Sinno from my best friend, she had breast reduction, tummy tuck and face lift. Everything...
I cannot say enough about Dr. Sinno and his entire staff. He is thorough, polite, reassuring, and "picky"...
The results I am seeing are nothing short of amazing I cannot say enough about Dr. Sinno and his entire...
After visiting so many other surgeons in different cities, I'm so happy to have found Dr. Sinno. From...
Back to Top