Sinno Center for Plastic Surgery: Dr. Fady A. Sinno
5300 Dorsey Hall Drive #102
Ellicott City, MD 21042
Phone: (410) 884-4200
Monday–Friday: 9 a.m.–5 p.m.

Sinno Center for Plastic Surgery: Dr. Fady A. Sinno
826 Washington Road #204A
Westminster, MD 21157
Phone: (410) 751-2348
Monday–Friday: 9 a.m.–5 p.m.

Eyelid Surgery
Surgery to tighten loose, sagging eyelid skin can enhance one's appearance and comfort; however, for many people, the idea of having any kind of eye surgery is frightening. At the Sinno Center for Plastic Surgery we understand, and that is why we are with you through each step of the process to help you determine if eyelid surgery (blepharoplasty) could be right for you. People from Columbia and Baltimore, MD, visit board-certified plastic surgeon Dr. Fady Sinno for this procedure to look more youthful and refreshed.
About Eyelid Surgery
Dr. Sinno performs eyelid surgery, technically called blepharoplasty, in Ellicott City and Westminster, MD, to remove excess fat, sagging or wrinkled skin from your upper and/or your lower eyelids. This procedure can enhance your appearance, making you look more youthful and healthy.
Keep in mind that eyelid surgery will not remove wrinkles at the corner of your eye (crows' feet) or other wrinkling around the eye. This procedure can add an upper eyelid crease to Asian eyes, but it will not eliminate ethnic or racial genetic characteristics.
Ideal Eyelid Surgery Candidates
You may be a good candidate for eyelid surgery if your eyes have one or more of the following characteristics:
Puffy areas or "bags" under the eye, making you look old, tired or ill
Excessive skin or sagging on your upper eyelid that detracts from your appearance or interferes with your vision
Loss of your natural upper eyelid crease
Maintain reasonable expectations for this procedure. Although eyelid surgery will minimize or reduce your eyelid problems, it will not dramatically change your appearance.
Enhancing Your Results
Many of Dr. Sinno's patients combine eyelid surgery with one or more of the following procedures for enhanced results:
Dr. Sinno also performs chin enlargement and cheekbone enhancement. He will help you determine the right combination of procedures for you during your consultation.
Testimonials
"I am incredibly happy with the results of my mammoplasty! The results have far exceeded my expectations. Dr. Sinno was very knowledgeable, professional, and transparent with me about the procedure. Dr. Sinno and his staff are incredible and are always a pleasure to work with! They provide excellent personalized care and I was very impressed with the surgery center."

– Patient Review on Vitals

"Dr. Sinno, is caring, intuitive, and extremely skilled. He is more interested in producing an artistic, natural, and beautiful result than in simply making money. I consider him to be one of the most ethical and professional plastic surgeons in the region. I highly, highly recommend."

– TriciaLeanne

"I have been going to Dr Sinno for more than 15 yrs, I had 3 surgeries, He has the best bedside manner & his professionalism is beyond anyone I met! I Love my results. He is truly an artist. I can't say enough about him, I HIGHLY recommend him."

– Rbsbeauty
View More
What to Expect
The operation is done at the Sinno Center for Plastic Surgery on an outpatient basis. The entire procedure takes 1 to 3 hours, depending on the extent of the area treated.
If you receive local anesthesia, you will be awake and aware of what is going on during the surgery. You may feel a little tugging around your eyes during the procedure. Dr. Sinno can also use a general anesthesia for eyelid surgery so that you can be asleep throughout the procedure.
Eyelid Surgery Incisions
Incisions are made where the natural crease of your eye should be in the upper lids and below the lash line of your lower lids, as shown to the right. Then, Dr. Sinno removes the excess fat and skin. Most patients are candidates for the "transconjunctival" lower eyelid blepharoplasty, where the lower incision is made on the inside of the eyelid, therefore avoiding visible scars. The lower eyelid skin is then "tightened" by laser resurfacing.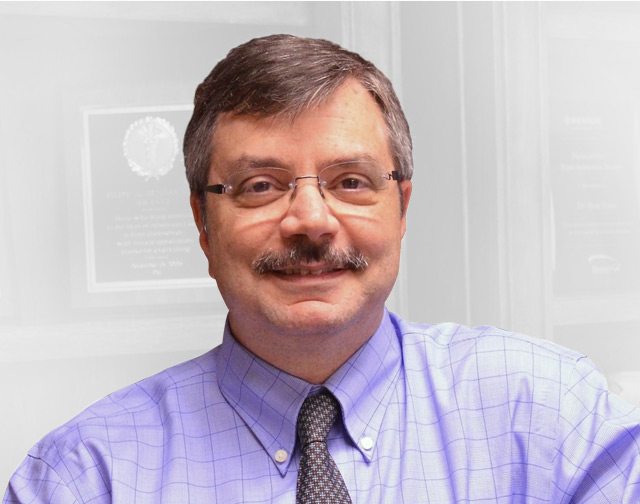 Meet Dr. Fady Sinno
Board-Certified Plastic Surgeon
Dr. Fady Sinno provides individual attention and personal care to each of his patients. His warm, personal approach and exceptional results make him a top choice for Baltimore, MD, area men and women who want to look and feel their best.
Meet Dr. Sinno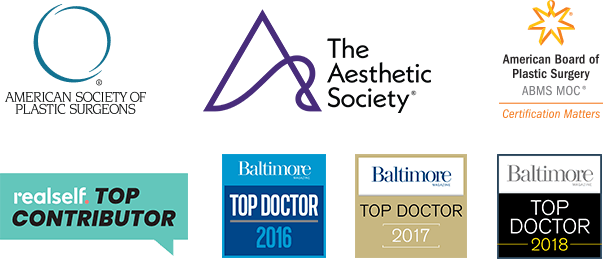 Recovery
Pain, swelling, bruising
Your eyelids will feel tight or sore as the anesthesia wears off. Pain medication will help you control this discomfort. Your eyes also will appear bruised. The amount and extent of bruising varies among patients, and usually reaches its peak during the first week after surgery. The discoloration disappears around 2 weeks after the procedure.
Dressings and compresses
Dr. Sinno will lubricate your eyes with ointment after the surgery. You will need to keep your head elevated for several days afterward. Use cold compresses to help reduce swelling and bruising.
The stitches are usually the absorbable kind, and will last about 1 week.
Bleeding
If you have bleeding from one of the incisions, it will usually stop if you apply a little pressure. Hold a pad or sponge on the spot for 10 to 20 minutes. You can clean off any dried or clotted blood around the stitches with soap and water, or diluted peroxide.
Cleaning your eyes
After surgery, your eyes likely will feel sticky or itchy and burning. Your eyelids also may feel dry. The staff at Sinno Center for Plastic Surgery will show you how to care for your eyes after surgery.
Numbness
You may have some numbness along your lash line. This is normal and will disappear shortly.
Scars
Healing takes time. Your scars may look slightly pink for 6 months, sometimes longer. Eventually, they will fade to a nearly invisible white line. Tiny whiteheads may appear after your stitches are taken out, and they can be easily removed. They cause no scarring.
Back to your normal routine
Your eyes will need time to heal and adjust after the procedure. In general, you can expect to do the following:
Avoid watching TV or reading for the first 2 to 3 days after surgery.
Contact lenses can be worn after 2 weeks.
Keep regular activities to a minimum for the first 3-5 days.
Avoid any activity that will raise your blood pressure (bending, lifting, sports, sex).
Do not drink alcohol for the first 3 to 5 days to minimize fluid retention.
Refrain from any strenuous activity for at least 3 weeks.
Return to work within 5 to 10 days.
Wear makeup around the eyes after 5 to 10 days.
Protecting your eyes
Your eyes are sensitive to sunlight, wind or other airborne irritants for a while. Wear sunglasses, along with a special eyelid sunblock, when you go out.
Results
Once you have healed from your eyelid surgery procedure, you will appear more youthful and have a more rested, healthier, and alert appearance. If sagging skin was blocking your vision, you will now have a widened field of vision. Wrinkle lines around your eyes may be softened, but they will not be removed or erased.
Next Steps
Are you ready to find out more about eyelid surgery in the Baltimore or Columbia, MD, area? Request your consultation online with Dr. Fady Sinno or call us at  (410) 884-4200 (Ellicott City) or  (410) 751-2348 (Westminster). His offices are conveniently located near Annapolis and Frederick.
A Reputation Built on Results
Dr. Sinno is extraordinary, especially if you want to maintain your look with small tweaks, avoiding...
I Am Grateful I Was Able to Receive Outstanding Care at Dr. Sinno's Office I consider myself very fortunate....
Dr. Sinno is an amazing doctor. He's had treated me, for various things, over the last 18 years. I've...
I have been going to Dr. Sinno for 3 years now and always leave happy no matter what I get done!!
Back to Top