Sinno Center for Plastic Surgery: Dr. Fady A. Sinno
5300 Dorsey Hall Drive #102
Ellicott City, MD 21042
Phone: (410) 884-4200
Monday–Friday: 9 a.m.–5 p.m.

Sinno Center for Plastic Surgery: Dr. Fady A. Sinno
826 Washington Road #204A
Westminster, MD 21157
Phone: (410) 751-2348
Monday–Friday: 9 a.m.–5 p.m.

Facelift
Many people from Baltimore and Columbia, MD, and nearby communities speculate about having a facelift, often considered the ultimate step toward a more youthful appearance. Some are reluctant – or maybe even a little afraid – to take the next step. At the Sinno Center for Plastic Surgery, we feel information is the key to understanding what a facelift in Westminster or Ellicott City can do for you and whether it is the right procedure to create the look you want. Board-certified plastic surgeon Dr. Fady Sinno has years of experience creating youthful, natural-looking facelift results.
About Facelift Surgery
The effects of time, the sun, and your family history all work together to age your look. A facelift is a surgical procedure designed to improve the most visible signs of aging on your face and neck. You may be a good candidate for a facelift if you are experiencing any of the following changes to your face and neck:
Loss of skin elasticity and muscle tone
Wrinkles
Deep creases forming between the bottom of our nose and the corner of your mouth
A tired look
Diminished jawline
Sagging chin and neck
The best candidate for a facelift is a person in good general health whose face and neck skin still has some elasticity. Many women and men get a facelift somewhere in their 40s to 60s.
Enhancing Your Results
You may want to consider combining your facelift surgery with additional plastic surgery procedures to enhance your results. These might include one or more of the following:
What to Expect
Dr. Sinno performs facelift surgery on an outpatient basis. An overnight stay in a hospital can also be arranged, if indicated. The procedure time varies, depending on what you are having done. You may receive either a local or general anesthetic. Dr. Sinno will help you decide which would be best.
An incision is made behind your hairline above your ear. It extends just in front of the ear and around your earlobe and ends in the hairline behind your ear, depending on what you and Dr. Sinno have decided would be best for you. Then, the lower levels of your skin and muscles are tightened, using sutures (stitches). The skin of your face is re-draped and lifted, and excess skin is removed. A small incision in the crease behind the chin may be used for removing any "bands" in the front of the neck and excess fat in the area.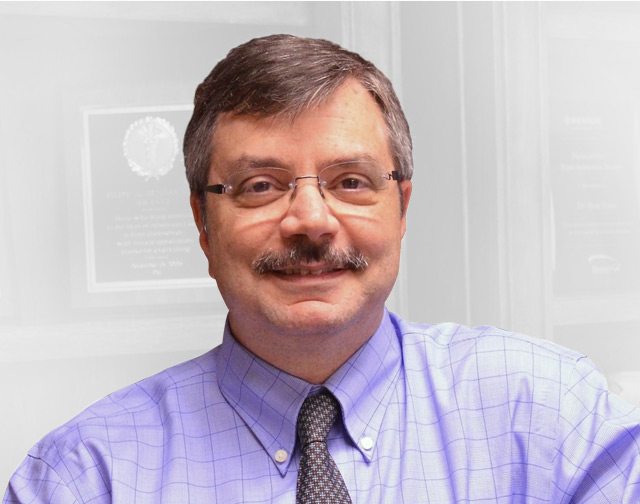 Meet Dr. Fady Sinno
Board-Certified Plastic Surgeon
Dr. Fady Sinno provides individual attention and personal care to each of his patients. His warm, personal approach and exceptional results make him a top choice for Baltimore, MD, area men and women who want to look and feel their best.
Meet Dr. Sinno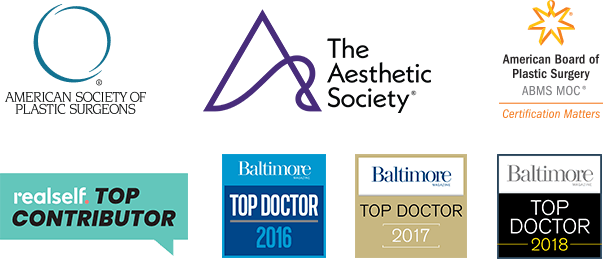 Facelift Recovery
The first few days
Your head and neck will be wrapped in dressings after the surgery. Dr. Sinno will usually take the dressings off the next day.
Pain is not significant, and it can be treated with pain medication prescribed by Dr. Sinno.
Bleeding may occur in small amounts. The bulky dressing may be stained and the size of the stain may enlarge after you go home. This is normal. For persistent oozing, apply gentle pressure and call Dr. Sinno.
Numbness is normal and will disappear in the next few weeks.
Keep your head elevated and still as much as possible for a few days to help reduce swelling.
Most stitches will be removed from your face and neck after 7 to 14 days. Some stitches are absorbable.
Bruising and swelling decrease enough so you can go out after about 10 to 20 days.
Getting up and around
You should be able to get up and move around within a day or so. Plan to take it easy that first week. Be especially gentle with your face and your hair, as your face and scalp will be tender.
You may feel a little anxious at first about your appearance immediately after surgery. Rest assured that by the third week, you will look and feel much better.
Most people are able to return to work within 10-14 days.
The staff at Sinno Center for Plastic Surgery will give you specific guidelines about when you can resume strenuous exercise and heavy work.
Face care
Avoid saunas and steam baths for the first few months.
Protect your scars with sunscreen for at least 6 months after surgery. Use an SPF 15 (or greater) at all times, every time you are outside. Put it on before applying makeup.
You can start using makeup 2 days after your stitches are removed.
Your face and neck will feel dry. Apply a good fragrance-free moisturizer frequently.
After 3 to 4 weeks, make an appointment at Sinno Center for Plastic Surgery to go over skin care routines to maximize the benefits of your facelift.
Hair care
You can wash your hair 24 hours after surgery. Keep the hair dryer on the lowest setting. Your scalp may be numb and you risk burning it if not careful.
Hair texture and manageability change temporarily as a reaction to surgery. Wait 6 weeks before you color, highlight or perm your hair when it returns to its normal condition.
Testimonials
"I am incredibly happy with the results of my mammoplasty! The results have far exceeded my expectations. Dr. Sinno was very knowledgeable, professional, and transparent with me about the procedure. Dr. Sinno and his staff are incredible and are always a pleasure to work with! They provide excellent personalized care and I was very impressed with the surgery center."

– Patient Review on Vitals

"Dr. Sinno, is caring, intuitive, and extremely skilled. He is more interested in producing an artistic, natural, and beautiful result than in simply making money. I consider him to be one of the most ethical and professional plastic surgeons in the region. I highly, highly recommend."

– TriciaLeanne

"I have been going to Dr Sinno for more than 15 yrs, I had 3 surgeries, He has the best bedside manner & his professionalism is beyond anyone I met! I Love my results. He is truly an artist. I can't say enough about him, I HIGHLY recommend him."

– Rbsbeauty
View More
Results
Your face will feel and look somewhat strange at first. Your features may be distorted from swelling. It may feel funny when you make certain facial expressions. You may feel self-conscious about your surgical scars and the bruising (both of which will fade).
Once the procedure and the healing process are completed, you will appear more youthful and have a more rested, healthier, and alert appearance. Many patients notice that their improved appearance gives them more self-confidence and a better psychological outlook on life.
A facelift will not stop the aging process and it will not dramatically change your looks. However, you can count on having a notably more youthful appearance after your facelift is completely healed.
Next Steps
Are you ready to find out more about facelift surgery in the Baltimore or Columbia, MD, area? Request your consultation online with Dr. Fady Sinno or call us at  (410) 884-4200 (Ellicott City) or  (410) 751-2348 (Westminster). His offices are conveniently located near Annapolis and Frederick.
A Reputation Built on Results
I found Dr. Sinno from my best friend, she had breast reduction, tummy tuck and face lift. Everything...
I cannot say enough about Dr. Sinno and his entire staff. He is thorough, polite, reassuring, and "picky"...
The results I am seeing are nothing short of amazing I cannot say enough about Dr. Sinno and his entire...
After visiting so many other surgeons in different cities, I'm so happy to have found Dr. Sinno. From...
Back to Top