Sinno Center for Plastic Surgery: Dr. Fady A. Sinno
5300 Dorsey Hall Drive #102
Ellicott City, MD 21042
Phone: (410) 884-4200
Monday–Friday: 9 a.m.–5 p.m.

Sinno Center for Plastic Surgery: Dr. Fady A. Sinno
826 Washington Road #204A
Westminster, MD 21157
Phone: (410) 751-2348
Monday–Friday: 9 a.m.–5 p.m.

Chemical Peels & Sclerotherapy
At the Sinno Center for Plastic Surgery, we offer a variety of ways to enhance your appearance. Our chemical peels can brighten the appearance and renew the texture of your skin. Free yourself from unsightly spider veins with our sclerotherapy treatments. Residents of Baltimore and Columbia, MD, visit us for professional skin care treatments and products, in addition to exceptional plastic surgery procedures, all under the care of board-certified plastic surgeon Dr. Fady Sinno.
Chemical Peels
Dr. Sinno offers his patients a variety of skin care treatments in Westminster and Ellicott City. Our chemical peels can refresh and renew the texture and appearance of your skin, helping you look younger and more vibrant. Unlike many plastic surgeons in the Baltimore area, Dr. Sinno performs these treatments himself to provide his patients with optimum safety and comfort. He will help you determine which one is right for you when you visit him for your consultation.
Glycolic acid peels use AHA (alpha-hydroxy acid) to gently remove the top layer of dry, damaged skin. This peel may be followed by redness for an hour or 2, but there is no downtime.
TCA (trichloroacetic acid) peels, such as the Obagi Blue Peel®, deeply penetrate the skin to provide dramatic skin rejuvenation. This peel can be used to improve the appearance and texture of the skin on the face, neck, chest, and hands. It involves a 5 to 7 day healing period.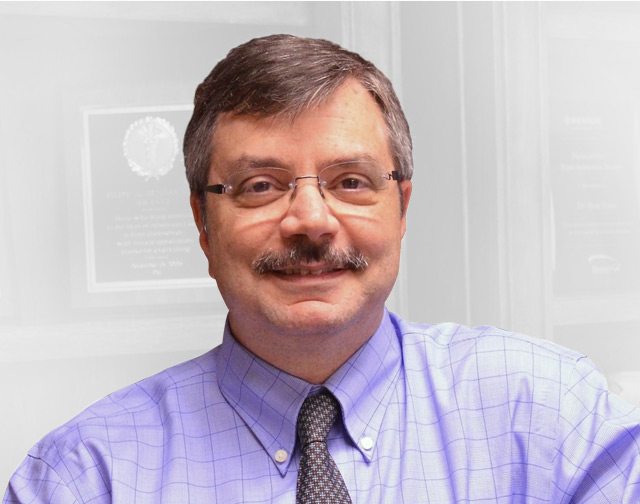 Meet Dr. Fady Sinno
Board-Certified Plastic Surgeon
Dr. Fady Sinno provides individual attention and personal care to each of his patients. His warm, personal approach and exceptional results make him a top choice for Baltimore, MD, area men and women who want to look and feel their best.
Meet Dr. Sinno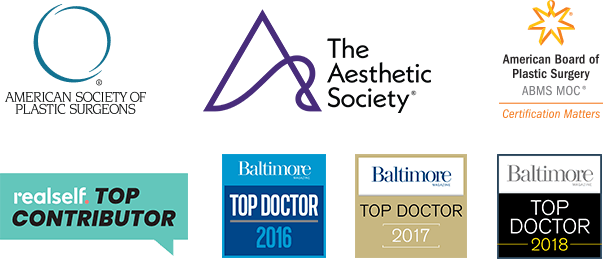 Sclerotherapy (Spider Vein Treatment)
Spider veins can make you feel self-conscious about wearing anything other than long pants. That's why we offer sclerotherapy, a safe alternative to just living with them. Treatment is performed in Dr. Sinno's office using a local anesthetic. Sedation is usually unnecessary.
How Sclerotherapy Works
The affected veins are injected and the solution causes the blood to empty out of the vein. That vein then becomes inflamed. When the inflammation subsides, the walls of the vein are scarred and stick together. This obliterates the vein so that it is no longer visible.
Your Treatment
Needles used for the injections are very small and cause little pain. Any discomfort you feel will only last a few minutes. Patients who have more extensive spider vein problems may need several sessions of treatment over a period of time.
Sometimes, very small veins can be treated with specially designed lasers.
Testimonials
"I am incredibly happy with the results of my mammoplasty! The results have far exceeded my expectations. Dr. Sinno was very knowledgeable, professional, and transparent with me about the procedure. Dr. Sinno and his staff are incredible and are always a pleasure to work with! They provide excellent personalized care and I was very impressed with the surgery center."

– Patient Review on Vitals

"Dr. Sinno, is caring, intuitive, and extremely skilled. He is more interested in producing an artistic, natural, and beautiful result than in simply making money. I consider him to be one of the most ethical and professional plastic surgeons in the region. I highly, highly recommend."

– TriciaLeanne

"I have been going to Dr Sinno for more than 15 yrs, I had 3 surgeries, He has the best bedside manner & his professionalism is beyond anyone I met! I Love my results. He is truly an artist. I can't say enough about him, I HIGHLY recommend him."

– Rbsbeauty
View More
Next Steps
Are you ready to find out more about chemical peels and sclerotherapy in the Baltimore or Columbia, MD, area? Request your consultation online or call us at (410) 884-4200 (Ellicott City) or (410) 751-2348 (Westminster). Our offices are conveniently located near Annapolis and Frederick.
A Reputation Built on Results
Dr. Sinno is extraordinary, especially if you want to maintain your look with small tweaks, avoiding...
I Am Grateful I Was Able to Receive Outstanding Care at Dr. Sinno's Office I consider myself very fortunate....
Dr. Sinno is an amazing doctor. He's had treated me, for various things, over the last 18 years. I've...
I have been going to Dr. Sinno for 3 years now and always leave happy no matter what I get done!!
Back to Top