Sinno Center for Plastic Surgery: Dr. Fady A. Sinno
5300 Dorsey Hall Drive #102
Ellicott City, MD 21042
Phone: (410) 884-4200
Monday–Friday: 9 a.m.–5 p.m.

Sinno Center for Plastic Surgery: Dr. Fady A. Sinno
826 Washington Road #204A
Westminster, MD 21157
Phone: (410) 751-2348
Monday–Friday: 9 a.m.–5 p.m.

Laser Skin Resurfacing
If you've ever wished that you could renew your complexion to make it smoother and more even-toned, board-certified plastic surgeon and facial rejuvenation specialist Dr. Fady Sinno offers an effective solution: laser skin resurfacing at his practices near Baltimore and Columbia, MD.
CO2 Laser Resurfacing

Before & After Photos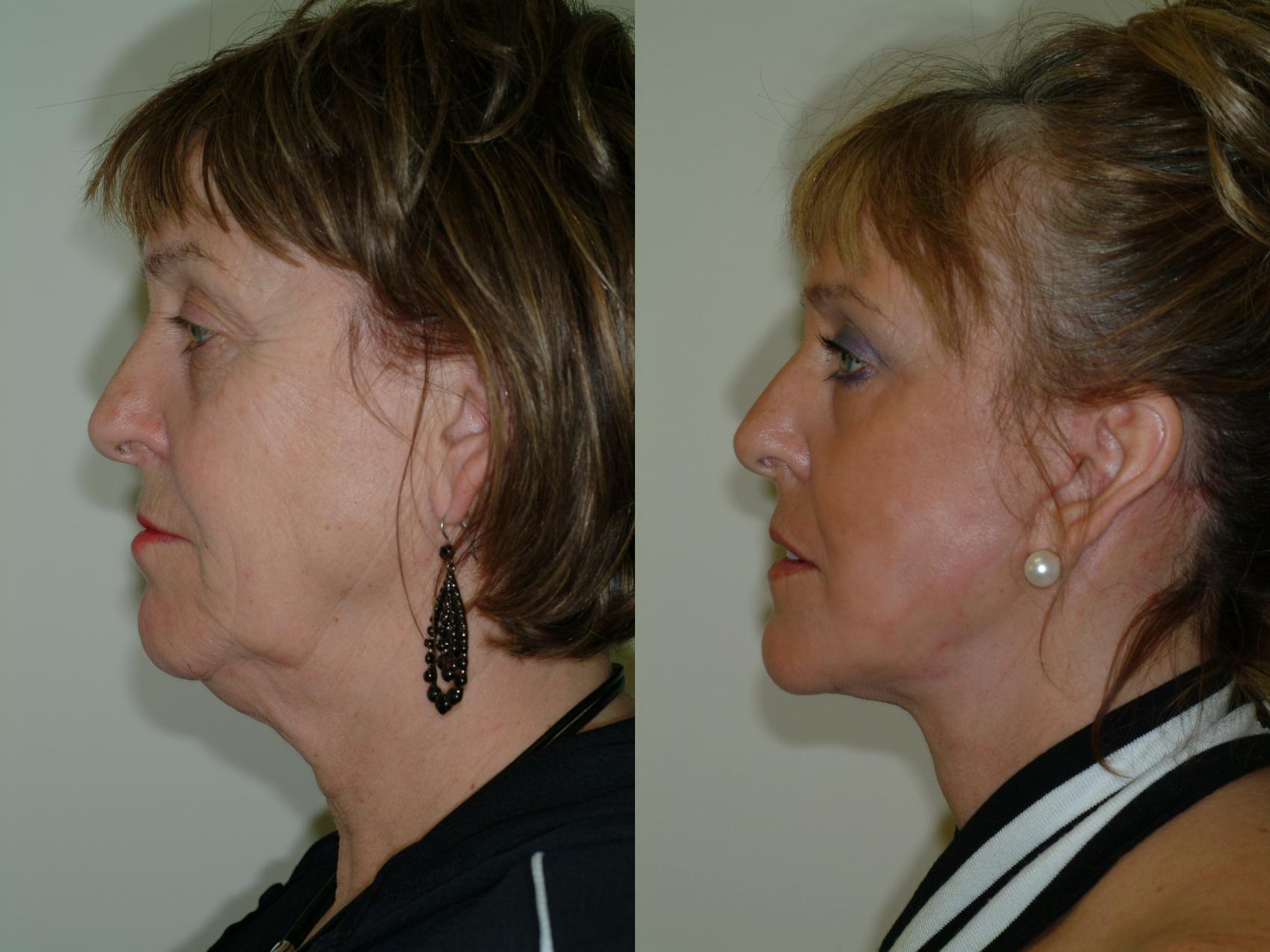 Before & After
Facelift with Upper Blepharoplasty and CO2 laser resurfacing
This is a 54 year old female who had a Facelift with SMAS dissection, CO2 Laser Resurfacing and upper Blepharoplasty. The post-operative pictures are 5 weeks after surgery.
Read More
Keep in mind that each patient is unique and your results may vary.
About Laser Resurfacing
Also called "laser peel," men and women of all ages may benefit from laser resurfacing. The best results from the procedure are typically seen in individuals with fair, healthy, non-oily skin.
Laser resurfacing can effectively correct any of the following conditions:
Fine lines, especially around the mouth
Vertical lines around the mouth
Facial scars caused by injury or accident
Scars caused by acne
Areas of uneven pigmentation, such as age spots
Lines on the cheeks caused by sun damage
What to Expect
A beam of laser energy is used to vaporize the upper layers of damaged skin with accurate precision. As new cells form during the healing process, smoother, tighter, younger-looking skin appears.
During the procedure, the activated laser is carefully passed back and forth over the skin until Dr. Sinno reaches the safest level that will make the wrinkle or scar less visible. When imperfections are deep, he may recommend that the resurfacing be performed in 2 or more stages.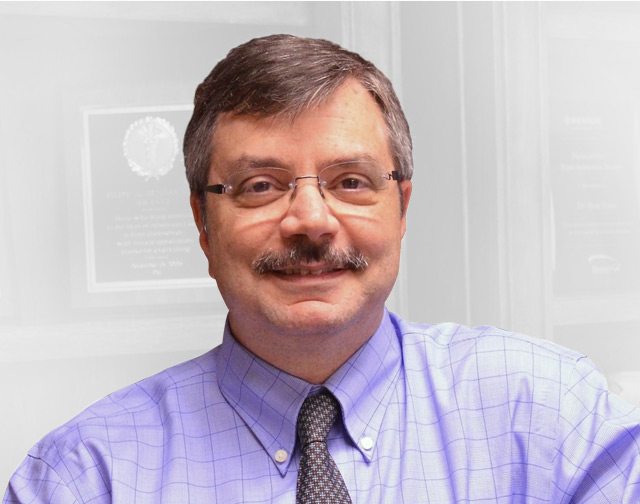 Meet Dr. Fady Sinno
Board-Certified Plastic Surgeon
Dr. Fady Sinno provides individual attention and personal care to each of his patients. His warm, personal approach and exceptional results make him a top choice for Baltimore, MD, area men and women who want to look and feel their best.
Meet Dr. Sinno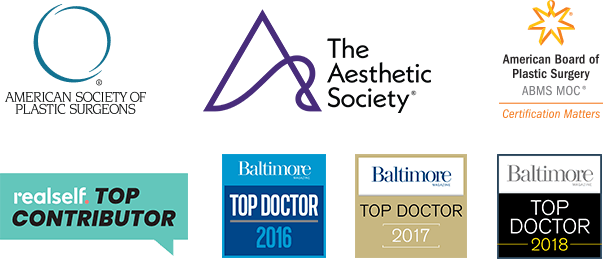 Alternatives to Laser Resurfacing
Precision and predictability are the major advantages of laser resurfacing. However, laser resurfacing isn't the only method that plastic surgeons use to refinish the facial skin. Alternative methods include:
Retin-A treatment: A light skin-refinishing treatment that involves regular applications of Tretinoin.
Glycolic acid peel: A light resurfacing treatment that involves use of a prescription-strength facial wash or cream.
Dermabrasion: A more aggressive method in which the surface layer of skin is removed with a motorized brush
Laser Skin Resurfacing Recovery
When the procedure is over, Dr. Sinno will cover your face with protective ointment and give you more ointment to use at home for the first week of healing.
You are likely to experience some mild to moderate swelling. However, ice packs and medication prescribed by your surgeon can help you stay more comfortable.
Although everyone heals at a different rate, you can expect that your recovery will follow this general timeline. Over the first 3 weeks:
Skin will be bright pink to red in color. The redness is a positive sign that the healing process is progressing and a new layer of collagen is being laid down
You can safely apply makeup as a concealer (after about 2 weeks)
You may be able to return to work
You'll begin to feel a lot more comfortable
Within about a month the redness will start to fade. It's important to remember that the redness will fade gradually. Although the color will continue to diminish with every passing week, some pinkness may remain for 3 to 4 months.
In the months following treatment, it's essential to protect your face from the sun until all the color has returned to normal. If you must be in the sun, apply a strong sun block with an SPF of 15 or higher and shade your face with a visor or wide-brimmed hat. You should also wear good quality sunglasses that have filters to block 100 percent of UVA and UVB rays. If sun-related darkening occurs, your plastic surgeon may suggest using a bleaching cream to even out the color.
Testimonials
"I am incredibly happy with the results of my mammoplasty! The results have far exceeded my expectations. Dr. Sinno was very knowledgeable, professional, and transparent with me about the procedure. Dr. Sinno and his staff are incredible and are always a pleasure to work with! They provide excellent personalized care and I was very impressed with the surgery center."

– Patient Review on Vitals

"Dr. Sinno, is caring, intuitive, and extremely skilled. He is more interested in producing an artistic, natural, and beautiful result than in simply making money. I consider him to be one of the most ethical and professional plastic surgeons in the region. I highly, highly recommend."

– TriciaLeanne

"I have been going to Dr Sinno for more than 15 yrs, I had 3 surgeries, He has the best bedside manner & his professionalism is beyond anyone I met! I Love my results. He is truly an artist. I can't say enough about him, I HIGHLY recommend him."

– Rbsbeauty
View More
Results
Most patients notice a significant improvement in the tone and texture of their skin. You should be aware that even though your results will be long-lasting, your face will continue to age. Following your treatment, your natural facial movements will eventually cause expression lines to recur. Using sun protection and a skin care regimen recommended by Dr. Sr. Sinno will help to maintain your results. However, some patients decide to repeat the treatment after several years to restore their rejuvenated look.
Next Steps
Are you ready to find out more about laser skin resurfacing in the Baltimore or Columbia, MD, area? Request your consultation online with Dr. Fady Sinno or call us at  (410) 884-4200 (Ellicott City) or  (410) 751-2348 (Westminster). His offices are conveniently located near Annapolis and Frederick.
A Reputation Built on Results
Dr. Sinno is extraordinary, especially if you want to maintain your look with small tweaks, avoiding...
I Am Grateful I Was Able to Receive Outstanding Care at Dr. Sinno's Office I consider myself very fortunate....
Dr. Sinno is an amazing doctor. He's had treated me, for various things, over the last 18 years. I've...
I have been going to Dr. Sinno for 3 years now and always leave happy no matter what I get done!!
Back to Top