Sinno Center for Plastic Surgery: Dr. Fady A. Sinno
5300 Dorsey Hall Drive #102
Ellicott City, MD 21042
Phone: (410) 884-4200
Monday–Friday: 9 a.m.–5 p.m.

Sinno Center for Plastic Surgery: Dr. Fady A. Sinno
826 Washington Road #204A
Westminster, MD 21157
Phone: (410) 751-2348
Monday–Friday: 9 a.m.–5 p.m.

Breast Augmentation
Not all women are happy with the size or shape of their breasts. Board-certified plastic surgeon Dr. Fady Sinno offers breast augmentation surgery to help women from the Baltimore and Columbia, MD, areas achieve the fuller, more feminine look they want. At the Sinno Center for Plastic Surgery, we will work with you from initial consultation to final results to make sure your breast enhancement surgery helps you achieve your aesthetic goals.
Breast Augmentation

Before & After Photos
WARNING:
This feature contains nudity. Please click OK to confirm you are at least 18 years of age and are not offended by such material.
What is breast augmentation?
Breast augmentation surgery enhances the size and shape of your breasts using either silicone gel or saline breast implants. During your breast augmentation consultation, Dr. Sinno asks about the results you envision and why you want breast implants. He then creates a surgical plan based on that discussion and a physical exam that includes specific measurements to ensure the results look natural.
Why do women have breast augmentation?
Breast augmentation gives women larger breasts using implants that are placed under the breast tissue. Every woman chooses breast augmentation surgery for her own reasons, which often include:
Increasing breast size to achieve a balanced figure
Correcting a noticeable imbalance in breast size
Restoring breast size that is lost during pregnancy
Enlarging small or sagging breasts
Reconstructing breasts after mastectomy
Some women also choose to combine breast augmentation with liposuction or a tummy tuck – especially mothers whose bodies changed after pregnancy and breastfeeding. He will review your surgical options with you and take the time to thoroughly answer your questions when you meet with him at your consultation.
How much does breast augmentation cost in Baltimore, MD?
The cost of breast augmentation surgery in the Baltimore area depends on the experience and training of the plastic surgeon, the technique used, and the type of implants you choose. The cost of revision breast augmentation surgery is different than primary breast augmentation. Dr. Sinno provides a detailed price quote after your consultation.
How do you know if you need a breast lift with implants or just implants?
While breast augmentation often reduces minor breast sagging, Dr. Sinno may recommend you combine it with a breast lift to achieve firmer results. If your nipples have descended below your breast crease or point downward, it's likely you will need a lift to raise and reshape your breasts and implants to make them fuller.
Testimonials
"I am incredibly happy with the results of my mammoplasty! The results have far exceeded my expectations. Dr. Sinno was very knowledgeable, professional, and transparent with me about the procedure. Dr. Sinno and his staff are incredible and are always a pleasure to work with! They provide excellent personalized care and I was very impressed with the surgery center."

– Patient Review on Vitals

"Dr. Sinno, is caring, intuitive, and extremely skilled. He is more interested in producing an artistic, natural, and beautiful result than in simply making money. I consider him to be one of the most ethical and professional plastic surgeons in the region. I highly, highly recommend."

– TriciaLeanne

"I have been going to Dr Sinno for more than 15 yrs, I had 3 surgeries, He has the best bedside manner & his professionalism is beyond anyone I met! I Love my results. He is truly an artist. I can't say enough about him, I HIGHLY recommend him."

– Rbsbeauty
View More
How is a breast augmentation procedure performed?
Dr. Sinno performs breast augmentation surgery on an outpatient basis using general anesthesia, so you will sleep through the entire procedure, which takes about 2 to 3 hours to complete. You will need someone to drive you home afterward and help you out for the first day or two.
Dr. Sinno makes an incision that is placed where resulting scars will be as inconspicuous as possible. After making the incision, Dr. Sinno will lift your breast tissue and skin to carefully create a pocket for the implant. The pocket will be either directly behind your breast tissue or beneath your chest wall muscle. Dr. Sinno usually places the implant behind the chest muscle to achieve the most natural-looking results.
Absorbable sutures (stitches) are used to close the incisions internally, and tape is placed on the outside. A gauze bandage may be put over your breasts to aid healing. Local anesthesia is applied to the breasts before the end of the surgery to keep you comfortable for hours after waking up from anesthesia.
Which incision is best for breast augmentation?
Dr. Sinno offers several choices for breast augmentation incisions, and his selection will depend on your preference, anatomy, and breast implant type. The options include:
Inframammary: Runs along the fold between the breast and the chest wall.
Periareolar: Traces the lower border of the areola, the darker tissue surrounding the nipple.
Transaxillary: Hidden within the armpit.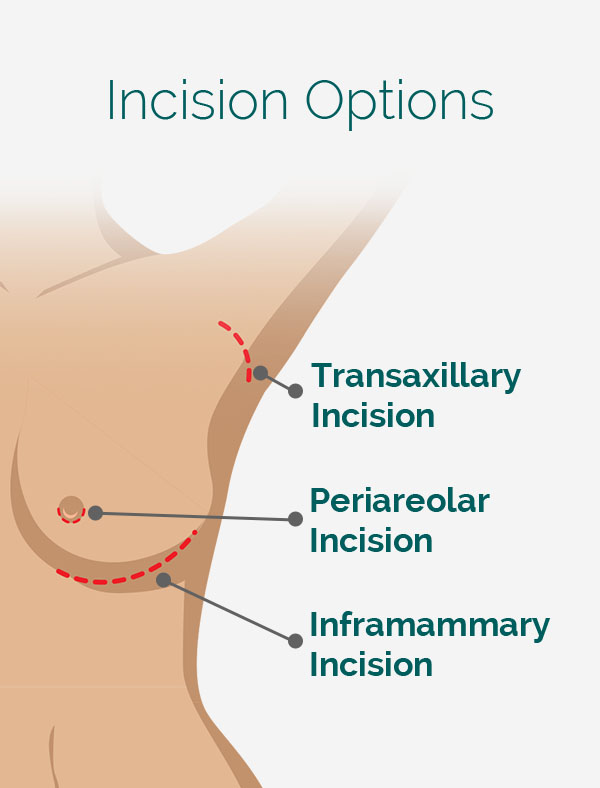 What are the options for breast implants?
At your consultation, Dr. Sinno will discuss your breast implant options in depth. He will help you customize your choice of implants based on several factors, including:
Fill material (saline or silicone)
Size (measured in ccs)
Profile (size of base and projection from the chest)
Dr. Sinno will explain the extensive information provided by the FDA about breast implant safety and the advantages and limitations of each type of implant. To learn more, visit our Breast Implant Options page.
How long is recovery from breast augmentation?
Even though the time it takes you to recover may be shorter or longer than others, most patients can return to non-physical jobs or school a few days after the surgery. Dr. Sinno provides detailed post-op instructions, including how to care for incisions. When closely followed, these post-surgical instructions can help reduce the time needed to recover. Other instructions include:
Wearing a surgical bra around-the-clock (except when bathing) for the first 2 weeks
Expecting swelling and bruising to peak during the first week and then gradually resolving
Sleeping on your back to avoid putting pressure on your implants and incisions
Taking at least 3 weeks off from exercise (other than walking) and more if you engage in high-intensity workouts
Expect your implants to sit high on your chest for several months after the surgery. It takes about 3 to 6 months for the implants to "drop and fluff"—the process of your implants settling into their final position as skin and tissue become less tight.
What can I expect after breast augmentation surgery?
During breast augmentation recovery, you might notice:
Your breasts may heal at different rates. One may swell, one may feel less comfortable than the other, or the shapes may look different at first. When fully recovered, your breasts will look very similar and natural.
You may hear or feel a "sloshing" sensation after surgery. This is not the implant! Sometimes fluid accumulates in the area around the implant immediately after surgery. It will all be absorbed by your body within a few weeks.
The skin of your breasts may appear temporarily shiny due to swelling. Within a few weeks, the swelling will disappear and the skin will return to normal.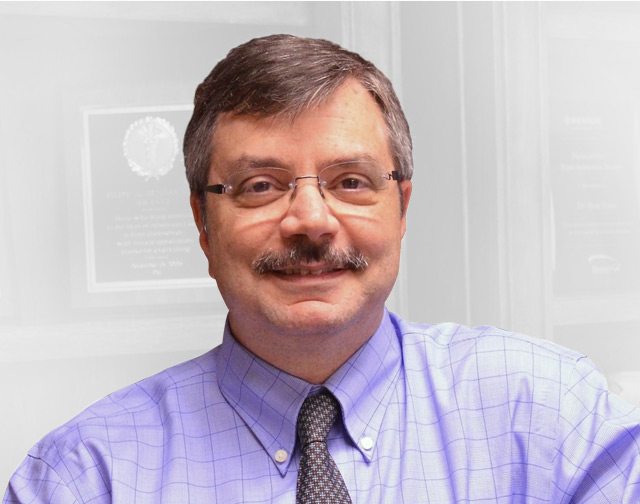 Meet Dr. Fady Sinno
Board-Certified Plastic Surgeon
Dr. Fady Sinno provides individual attention and personal care to each of his patients. His warm, personal approach and exceptional results make him a top choice for Baltimore, MD, area men and women who want to look and feel their best.
Meet Dr. Sinno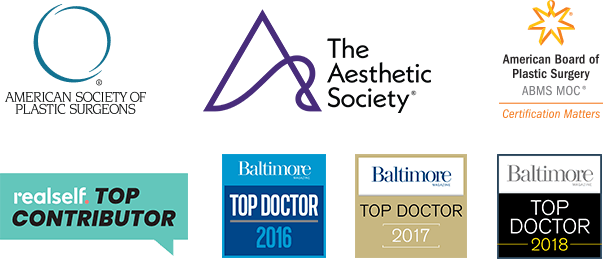 Is having breast augmentation worth it?
Dr. Sinno's patients love their fuller, more shapely breasts after breast augmentation surgery. They also often report increased self-confidence and self-esteem. The results of your breast augmentation are permanent. But do keep in mind that as your body and skin continue to age, your breasts may show some natural sagging.
When should you consider replacing your existing implants?
Breast implants don't last forever. If you're happy with the results, it may be 15 to 20 years before you'll need to replace them. Some women elect to replace implants because they want to change the size or upgrade to a newer generation of implant. Patients may want to replace saline implants with silicone gel implants.
Replacing the implant during breast revision surgery usually involves the same incision location as the primary procedure. Revision surgery is more complicated than the first surgery because scar tissue has formed around the implant. If you're considering replacing your implants, you can discuss your reasons and goals with Dr. Sinno during your consultation.
More Breast Augmentation FAQ
Is breast augmentation right for me?
Your reasons for wanting breast augmentation are unlike anyone else's. If you are unsatisfied with the size, shape, or symmetry of your breasts, breast augmentation may be a good option. If you are hoping to improve sagging breasts, you may need to combine your breast augmentation with a breast lift. We insist that our breast augmentation patients are in good physical health and prepared to avoid smoking for several weeks both prior to and after their procedures.
---
Will my breast implants feel natural?
Your implant choice and placement will affect how your breasts feel after surgery. Most patients and surgeons believe silicone gel implants feel more like natural breasts than saline implants. Highly cohesive silicone gel implants—sometimes called "gummy bear" implants—may feel stiffer than silicone implants with a less cohesive gel. Placing the implants behind the chest muscle also enhances the natural feel of the breasts.
---
Will I have visible scars after breast augmentation?
Today's breast augmentation techniques allow for extremely inconspicuous incisions. One of the most common incisions is the periareolar incision, which runs along the border of the darker circle of skin surrounding the nipple. This allows good access for creating the breast pocket and fades to nearly invisible over time. Another commonly used incision is the inframammary incision, which is made in the breast crease. This allows excellent access to the interior breast anatomy and is well hidden in the fold beneath the breast.
---
What is capsular contracture?
Scar tissue, called a capsule, naturally forms around a breast implant after it is placed during breast augmentation surgery. In most cases, this scar tissue is thin and allows the implant to move freely within the pocket. In some cases, the capsule thickens and closes down around the implant, causing distortion, discomfort, and even pain. Dr. Sinno can correct this complication with revision surgery that includes surgically altering or removing the capsule and replacing the implant.
---
Can I still breastfeed after breast augmentation?
Most women do not experience problems breastfeeding after breast augmentation surgery. A qualified plastic surgeon should be able to preserve the glands and ducts so that breastfeeding is not impaired. It is important that you discuss your desire to breastfeed in the future with your surgeon.
---
Can I still have mammograms once I have my breast implants?
Yes. Regular mammograms play an important role in ensuring your health and safety, and breast augmentation does nothing to prevent you from having them. Don't forget to alert the practitioner performing your mammograms that you have implants.
---
How long do breast implants last?
Today's breast implants are designed for extremely long-lasting results. In one large study submitted to the FDA, the rate of silicone gel implant leak/rupture was only 1.1% after 6 years! The new cohesive gel implants may last for decades. You should plan on having regular checkups to ensure the integrity of your implants.
What are my next steps?
Are you ready to find out more about breast augmentation surgery? Request your consultation online with Dr. Fady Sinno or call us at (410) 884-4200 or (410) 751-2348 (Westminster). His Ellicott City and Westminster offices are conveniently located near Baltimore, Annapolis, and Frederick.
A Reputation Built on Results
I found Dr. Sinno from my best friend, she had breast reduction, tummy tuck and face lift. Everything...
I cannot say enough about Dr. Sinno and his entire staff. He is thorough, polite, reassuring, and "picky"...
The results I am seeing are nothing short of amazing I cannot say enough about Dr. Sinno and his entire...
After visiting so many other surgeons in different cities, I'm so happy to have found Dr. Sinno. From...
Back to Top